M39S
SCANNING SYSTEM FOR THE PROFILE CHECK OF INSIDE AND OUTSIDE DIAMETERS
Scanning technology is an essential tool for functional control of components produced under high accuracy matching and assembly conditions. This system not only inspects and graphically displays the dimensional profile of the matching surfaces along their global extension, but also provides indications for the process control of the machine.
By using different measuring elements, the diameter of a bore or an outside diameter can be inspected, along its total length. The measured values contain detailed information about the diameter and the cylindrical form, which determine the matching conditions or classification. The use of standard components and a robust mechanical design guarantee excellent performances for years in the shop floor environment.

Application field
Process control and diagnostics
Pre-process and post-process inspections in match grinding applications
Final check with clearance evaluation
Final check with class selection
Measuring technology
Pneumatic plug gauge for bore inspection
Pneumatic ring gauge for outer diameter inspection
Special measuring solutions with contact plug or ring gauges
Available versions
M39S Single Station, for individual ID or OD inspection
M39S Twin Station, for simultaneous or alternate ID and OD inspection
M39S with predisposition for automatic part loading
M39S Light for simple scanning inspections
Special applications with "Single Lip" A/E technology, for inspection on short lands or near edges
Performances
The system has been designed to guarantee high measuring performances for the inspection of very precise components, with small geometrical & dimensional tolerances and extreme matching conditions. The system can also be employed for the inspection of parts characterized by wider tolerance ranges. Within a measuring range of 10 µm, (dependent on the part conditions) the measurement can be guaranteed with a repeatability and linearity error of 0.1 µm. An option for automatic calibration, with a master integrated in the gauge, guarantees a high precision and stability.
This equipment is used along with an industrial PC E9066T .
TWIN STATION FOR CLEARANCE CHECKING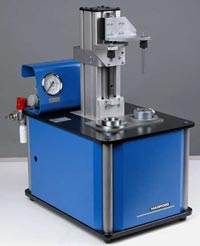 This application allows to check either injector body and needle (simultaneous or alternate ID and OD inspection) on the same bench to determine the clearance and the matching condition and to draw conclusions about the efficiency of the component after assembly.
Mechanical features
The pneumatic plug for the bore inspection and part reference finger for outer diameter inspection, are placed onto the same mobile slide for a simultaneous acquisition on both parts.
The measuring carriage of the slide is driven by a precise recirculating ball screw. A brushless motor with encoder guarantees high axial location and a constant feed rate of the measuring unit. The axial positions and the feed rates for each type of measuring cycle are independently programmed and stored in the measuring amplifier.
Details of the part reference on M39S TWIN Station
Software features
Besides the standard scanning software features, it is possible to visualize both graphic profiles (ID and OD check) on the same page for a prompt clearance evaluation.
The clearance elaboration is based on the vector of the acquired sample and allows to check the following options:
Min, max and mean clearance along the total explored length
Min, max and mean clearance related to programmable portions of the explored profile
Clearance in local programmable positions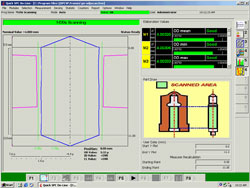 M39S LIGHT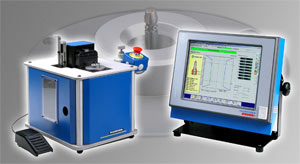 Single station for basic ID or OD scanning inspection
The Marposs high-precision technology for the inspection and graphical representation of the cylindrical profile of matching surfaces available with an entry-level version.
Sophisticated scanning technology with simplified mechanics
Significant flexibility at a lower cost
Compact free-standing package
Easy manual retooling between different part types of the same family
E9066T thin panel industrial computer
Same SW interface for programming and measurement as used in the standard M39S range