E20N
GAP, CRASH, DRESSING AND POSITION CONTROL FOR GRINDING WHEEL
In the grinding applications the contact or the impact of the wheel with the workpiece, the dresser or other devices generates an ultrasonic noise emission. The proper detection of such emission allows the following controls:

Gap Control: trough the definition of a proper noise limit value it is possible to control the wheel speed and to properly switch it from approach speed into feed rate to optimise the cycle time.
Dressing Control: trough the definition of a proper noise limit value it is possible to detect the contact between dresser and wheel, analysing the continuity of the noise emission during the dressing cycle it is also possible to optimise it.
Wheel Position Control: can be determinated through the detection of its contact with a given reference pin and this information may be used to "zero" the CNC before the grinding cycle.
Crash Control: collision of the wheel against the workpiece or other parts of the grinder may occur due to a programming error, wrong workpiece or machine malfunctioning. The safety of the machine and the process can be improved with a proper noise detection.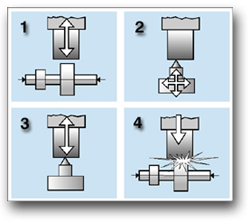 This electronic unit is used with AE SENSORS.
E20N COMPOSITION
The
Marposs E20N
is a two-component system that consists of an electronic controller and an ultrasonic microphone.
The electronic controller is available in the models with:
one Gap or Crash channel;
one Gap and Crash channel;
two Gap channels.
The
E20N
can be supplied with stand-alone box, rack mount for 19" drawer or with remote panel.
The ultrasonic microphone is a wide-range piezoelectric transducer particularly suited for the frequency range of 60 ÷ 270 KHz and it is available in two basic versions:
microphone with cable transmission for application for OD grinder;
microphone with contactless transmission for application for ID grinder.