Non Contact Displacement Sensors
OPTOCROWN™
The Marposs range of components for measurement applications includes a state of the art fibre optics sensor for contactless measurements.
The possibility of including Optocrown in Marposs Network Systems, provides contactless applications for delicate materials (glass or plastic) as well as mixed applications with different sensors, based on the requirements.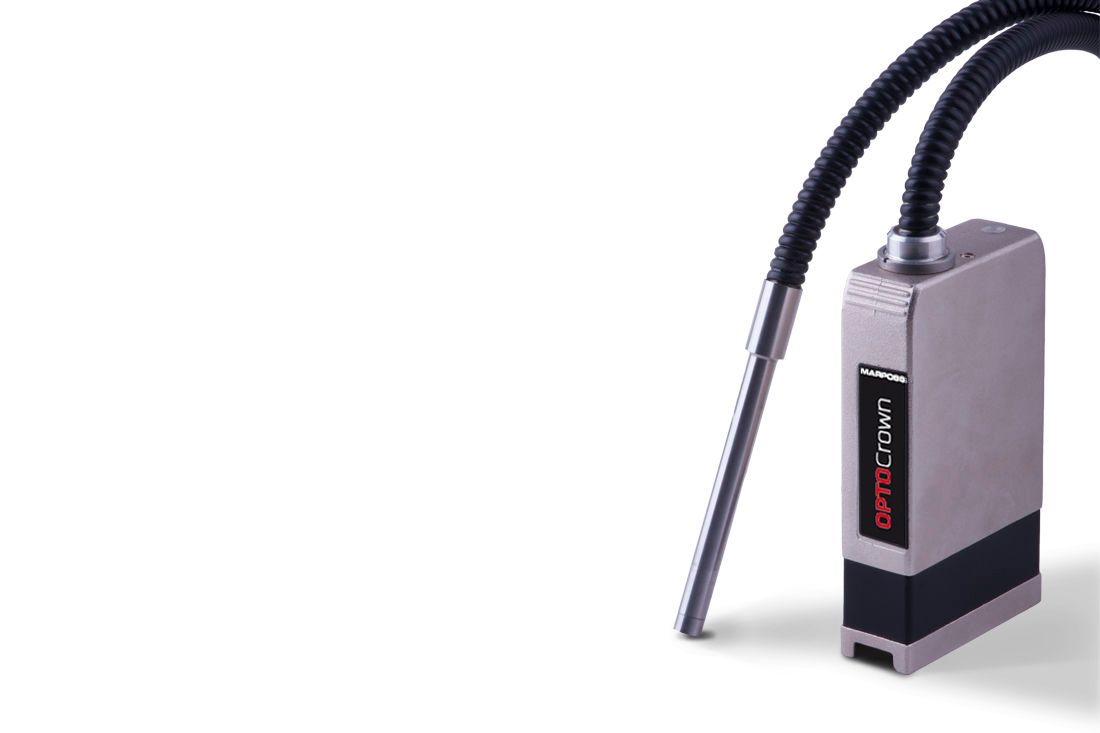 DESCRIPTION
OptoCrown™ is an optical sensor based on light reflection technology designed for contactless linear measurements. The sensor transmits a beam of light towards the part, through a bundle of fibre optics and receives the light from the part being measured through two separate bundles of fibre optics connected to two receivers. The distance between the sensor and part surface is determined by the intensity of the light reflected.
After being calibrated correctly the sensor can measure any type of material. Marposs can provide pre-calibrated sensors on the customer's materials, but the user can perform further calibrations autonomously. Thanks to the particular configuration of the fibre optics, the sensor is not affected by changes in the reflectance of the surface being measured.
BENEFITS
contactless measurement of parts
same diameter of Marposs RedCrown and DigiCrown contact sensors
can be included in DigiCrown modular systems for complex applications with up to 62 sensors
compatible with any Marposs display and statistical processing devices
it compensates for changes in light and reflectance of the material being measured
greater resistance due to no friction
up to 12 material calibrations can be stored
TECH SPECS
Measurement range: 10 mm
Standoff (central point of measurement range): 6 mm
Resolution: 1 μm
Repeatability (*) (**): < 3 μm
Accuracy (**): < 0.1% FS0
Protection rating: IP 67 (tip)/ IP43 (electronics)
Operating temperature: 0-100°C (tip)/ 0-50°C (electronics)
Storage temperature: -20 - 70°C
Power supply voltage: +7.5 Vdc (-10% +30%)
Current absorption 190 mA
Warm-up time: 5'
Ambient light compensation: Yes
Reflectance compensation: Yes
Calibration on material Requested (each sensor can store up to 16 different calibrations)