Helium Charged - Vacuum Test
LEAK TESTING ON BLOOD FILTERS
Highly flexible leak testing machine with 3 vacuum chambers, one per test station, to test hematic filters. Principle of measurement: Global test with mass-spectrometer.
In the past few years we have developed leak testing machines able to test specific parts using helium as tracing gas in many different industrial sectors as refrigeration, food, automotive and also medical. HeTech aim is to improve knowledge and experience in the medical/pharmaceutical field, to  make it available for our customers and therefore to cover a larger spectrum of testing solutions with flexibility and attention to the customers' specific requirements.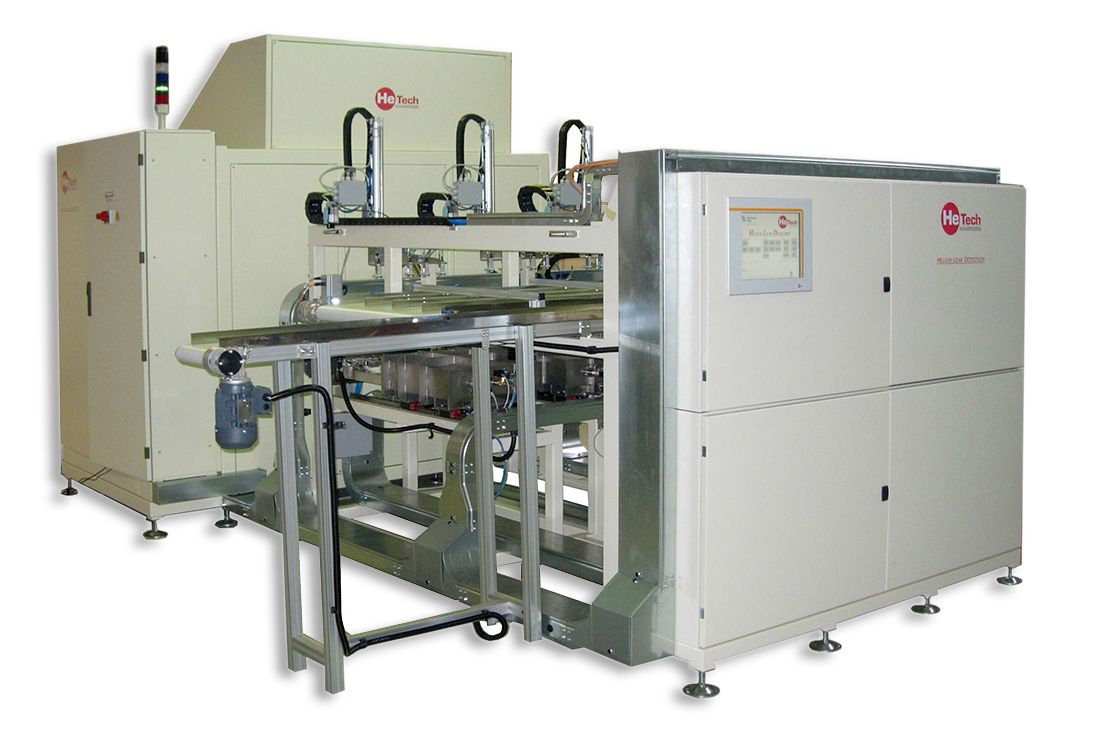 DESCRIPTION
The proposed system provides three fixed testing stations, each of which can accommodate nr. 5 blood filters of different sizes manually re-arranging the same positions. Aligned to the testing stations there will be three vacuum chambers, one per position, including the poses by horizontal movement. On the other side of the test stations and on the opposite side to the vacuum chambers, there will be three unloading stations after the blood filter test, each post will be combined with the relative test post. The blood filters are taken by special suction cups assembled on equipment combined with a precision pneumatic cylinder which will in turn be assembled on a linear axis that will perform the loading/unloading of the filters blood samples on the three test stations. The discharge of the blood filters after the test will be performed by three linear axes, one for each testing station, on which will be assembled three precision pneumatic cylinders and the suction cups for the removal of the filters themselves. Behind the vacuum chambers will be placed the pumping unit, unique for all three chambers, housed on a support frame inside a soundproofed and ventilated cabin. The cabinets containing the electrical panel, the analysis system, and the three pneumatic distribution panels for the process gas will be solid to the pump cabin. The HMI interface will consist of a color touch-screen monitor and indicator lights for the operator/maintenance technician.
BENEFITS
Dedicated pumping system for the analysis - Total flow
Pumping system placed on a cart for easy maintenance
Dedicated Electric and Pneumatic cabinet
Ventilation and Sound proofing of the pumping system
Totally customizable HMI interface
TECH SPECS
Productivity: 5 Filters every 13'' seconds with n° 5 parts tested per chamber - Reject threshold: higher than 3,0E-5 mbar*l/sec (helium 100% )  - Test Pressure (max): 300 mbar
Top
Contact us