Electronic for Thread Presence Inspection by Eddy Current
E70T
E70T is a Go/NoGo electronic gage, able to check if a thread is present or not to be used, after the tapping process of metallic parts; this allows immediate detection of breakages of the tapping tool or missing machining. Using eddy current probes designed to safely fit threaded holes, E70T checks the thread presence contact-less, avoiding wear of component under test. Probe size starts from M4 up to any custom dimensions.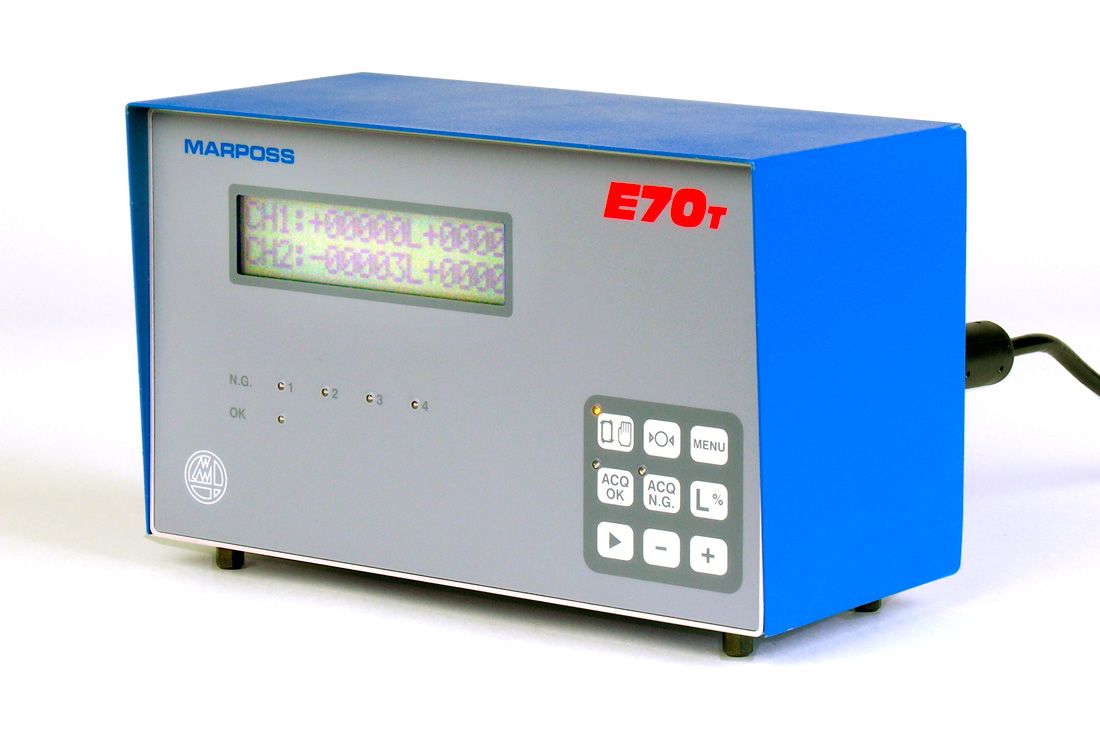 DESCRIPTION
The E70T uses the eddy current contactless probe, to verify the correctness of the tapping process.
Eddy current probes, are small copper windings, powered by alternating current thus generating a magnetic field. This magnetic field is affected by surrounding material and its variation can be analyzed to check many different part characteristics. The E70T focuses its attention to the magnetic field variation caused by the presence/absence of the thread. Generally speaking, the surface of an untapped hole is on average, closer to the probe than a tapped hole: this difference is used to determine the thread presence. The signal of the sample under test, is compared to the signal of good part and in case of difference larger than a certain threshold, the part is rejected.
In case of blind holes, the thread presence inspection is performed in the lowest section of the thread, while in case of open holes the check is made on the last threads.
Eddy current's thread presence, can be performed on every conductive material such as steel, cast iron, copper, brass, bronze, etc. The strength of the magnetic field does not leave any residual magnetization on the part so no risk of ferrous metal chips, attraction is present after the thread presence inspection.
BENEFITS
Its presence is practically everywhere in automotive, aerospace, and in other fields where threaded holes are used to connect components by means of screws. In mass production lines or small production batches, it's mandatory that the thread presence is verified, because missing threads can lead to an interruption of the subsequent assembly process.
Before considering the way to measure its mechanical characteristics (diameters, pitchs, tapers, ect), the E70T checks the presence of the thread after the tapping. If there is a missing thread, the production process is immediately interrupted. A missing thread can be caused by tool breakage or missing machining, which leads to quality production improvement. E70T's high testing speed allows simultaneous thread presence verification for complex geometry with up to 4 probes at the same time.
TECH SPECS
1 to 4 test channels
working frequency is programmable within a range from 40kHz to 100 kHz
9 soft-keys front panel
2 lines 16 digits alphanumeric display
12 I/O opto-insulated signals (4/inputs – 8/outputs)
24 Vcd power supply
stand-alone IP 30
panel mounting IP 54 on the front panel