N. D. TEST AND DIMENSIONAL MEASUREMENT OF CYLINDER BORES
AUTOMATIC EQUIPMENT FOR NON DESTRUCTIVE TEST OF SURFACE DEFECTS AND DIMENSIONAL CHECK
The manufacturing process of cylinder bores of automobile engines can often cause the formation of porosity (resulting from fusion in aluminium or cast iron cylinder bores) or cracks in steel cylinder liners.The need of both a Non-Destructive inspection to detect superficial defects as well as the typical dimensional controls has driven the integration of Eddy Current and pneumatic technology in a single plug.
The adopted solution, includes two ND probes (opposing each other at 180°) and two or four pneumatic jets (opposing each other at 90°). This allows, in only one cycle, to inspect:
surface defects such as porosity and cracks;
diameter;
taper and ovality;
The advantages resulting from the integrated ND and pneumatic technologies are significant:
Shorter Inspection Time;
Cost Reduction;
Reduced Space;
With this solution Marposs confirms once more its commitment to the improvement in quality control techniques for the production environment.
This equipment is used along with the E70s electronic unit.
APPLICATION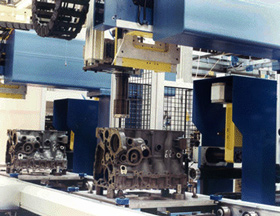 Integral test of cylinder bore.
ND inspection with rotating plug.
Dimensional check of diameter with air jets.
Floating device for plug self-centering into the bore with axial recoil.