N. D. TEST ON CENTERLESS GRINDER
NON DESTRUCTIVE TEST DURING THE GRINDING PROCESS ON A CENTERLESS THROUGH-FEED MACHINE
The ever-increasing demand for global quality control of the entire production requires technical solutions that can guarantee the best performances at a reasonable cost.

An original and safe method to achieve that result is by integrating the ND testing system directly on the centerless grinder and performing the test during the grinding cycle.
In this condition it is possible to take advantage of the perfect mechanical stability of the parts, which are through fed by the two wheels.

This equipment is used along with the E59N electronic unit.
THE SOLUTION
Marposs, with its extensive experience within the machine tool industry, has produced ND sensors of different shapes and sizes that can fit into the machine blade which guides the parts through the grinding process.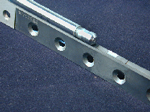 These sensors, withstanding the harshest environment, are able to detect microcracks, grinding burns, blow holes etc.
The electronic equipment connected to the ND sensor can perform the part counting and automatically enable and disable the test during the part's flow without any external proximity switch.
In this way the ND test can start just few millimeters from the part's edge and stop very close to the opposite end.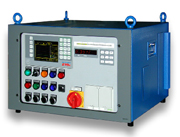 In addition, by means of a proper software it is possible to exclude from the test those sections that do not require it. This function makes it very easy to adapt the system at the part change.
When a workpiece is identified as scrap, the electronic device stores the information and shifts it to the scrap parts chute, where a mechanical ejecting device will push the parts out of the conveyor line.
Download
You may click here to download Adobe® Reader®