N. D. CAMSHAFT INSPECTION
AUTOMATIC NON DESTRUCTIVE TESTING EQUIPMENT FOR SURFACE DEFECTS
A) Problem Description
Camshafts for automobile engines are manufactured using a variety of methods.They can cause a variety of quality defects, such as:
porosity
hardness cracks
casting shrinkage, cavities and holes
missing material
Subsequent grinding can also cause cracks or grinding burns (soft spots).They are caused by variations during grinding operations such aschanges in grinding speed, changes in grinding wheel/workpiece position and by the effects of the coolant used.
In the past, attempts to automate test procedures have often failed.
B) Solution
Complex geometry's such as camlobes can now be easily tested with standard Marposs N.D. probes. The Marposs N.D. inspection method is based on the Eddy Current technology. It is the only method capable of performing N.D. inspections automatically. For this reason, it can be easily installed into a production line for 100% inspection.
The traditional testing procedure, which is usually performed with magnetic powder and/or human evaluation, can be now reduced in terms of inspection time and overall cost.
Cracks as small as 100 microns in depth can be detected, dependent upon the surface finishing and material homogeneity
This equipment is used along with the E70S electronic unit.
APPLICATION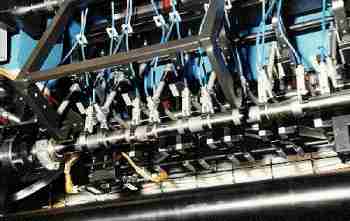 Application for the simultaneous inspection of 10 camlobes and 6 journals (16 probes total).
Automatic measuring trigger on the camlobe's chamfer.
Machine cycle time:
16 seconds
.
Download
You may click here to download Adobe® Reader®