SOFTWARE FOR PROBING AND LASER APPLICATIONS
SOFTWARE CYCLES FOR PART AND TOOL MEASURE AND VERIFICATION
Thanks to growing importance for modern production companies in measure and process-quality control on machine tools, Marposs has developed new software packages for its own contact and contactless touch systems. These softwares have been conceived to facilitate the use of touch probes for part/tool check and laser systems, together with relevant measuring cycles for a wide range of applications for machining centres, milling machines, lathes and turning centres.
The building-in of these cycles into your productive processes will optimize their working order.

Measuring cycles are available for the following applications: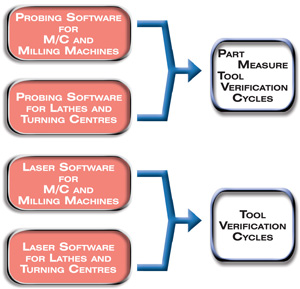 Probing Software
The development of in-machine measurement involves increasingly accurate gauging of the part position and the geometrical dimensions and form of the finished piece, as well as the settings and checks carried out on the tools used for the process.
The response to these requirements is a new range of software packages aimed at the machine tools market, for use in conjunction with our probes.
The probing software consists of packages used on the following types of machine tool: machining centres, milling machines, lathes, turning centres.
The part check cycles include a series of macros such as:
bore
boss
surface
corner
shoulder
pocket
stock measurements.
The tool check cycles enable the user to inspect:
length
radius
axial integrity
Laser Software
The need to measure tools directly over machines by means of laser devices drove Marposs to develop a complete software packages library for this purpose.
Mida Laser
device is integrated in machine tool and allows the on-machine measure of the spindle mounted tool in the actual cutting conditions, i.e. during rotation.
Tool verification cycles allow different checks, and among them:
tool breakage verification
tool length and diameter measure
tool cutting edge verification, with damaged area identification
machine axes thermal drift compensation

Manuals download
Probing software for machining centers and milling machines
Probing software for lathes and turning centers
Laser and TBD software for machining centers and milling machines
Laser and TBD software for turning centers
VTS software for machining centers and milling machines
Download
You may click here to download Adobe® Reader®