AIR CONVERTER
AIR-TO-ELECTRONIC CONVERTER
Marposs air converter is a device which is part of a measuring system based on pneumatic technology, following principles of pneumo-electronic measure. A dimensional variation of the part to be measured is read by the converter like a pressure variation, which is then transformed into an analogic electric signal, LVDT or MRT (Marposs Resistance Transducer).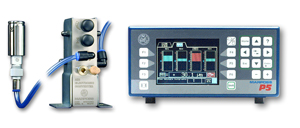 This Marposs product is characterized by a significant flexibility, so it can well suit the various application needs of the Customer. The air converter, with its different adjusting possibilities, is usable with plugs, snap gauges and pneumatic measuring stations characterized by a wide group of nozzle diameters and gap nozzle – measuring parts.
Every converter is able to manage a measuring channel. Because of their modularity, the converters are supplied in groups from one to four, fixed on a support suited to the customers requirements.
In addition to high reliability and precision, the technical features of this component allow the realization of measuring applications that are highly accurate and repeatable, characteristics common to all Marposs applications.
This equipment is used along with an industrial PC E9066T or an E4N or an E3µ electronic unit.
FLEXIBILITY


Legend
A = AIR SUPPLY CONNECTION TO OTHER CONVERTERS
B = SENSITIVITY ADJUSTMENT
C = ZERO ADJUSTMENT
D = AIR OUTLET TO GAUGE
E = SILENCER
F = AIR SUPPLY INLET
The product results are an extreme flexibility and the ability to satisfy the different application needs of the customer, using the following features:
Zero adjusting knob on the frontal panel;
Precise adjusting of pneumatic sensitivity through knob on the front panel;
Pre-selection on the buffer of three different pneumatic sensitivities, predefined at values 0.5, 1 and 1.5 KPa/µm. Other sensitivities can be set with a simple intervention.
MODULARITY

Marposs air converter is available in groups composed of 1 to 4 converters, realized either with common pneumatic supply or with individual ones on each single component, with the following configurations:
Each converter is provided with 1.5 m of cable and buffer with Lumberg connector;
Converters connected to an electrical junction box, ending with a Veam connector (J CC PT02Y 12-10PX), allowing to send transducer signals to a unique electrical cable.
TECHNICAL CHARACTERISTICS

General characteristics
Working temperature: 0/+55 °C (+32/+131 °F)
Stocking temperature: -20/+70°C (-4/+158 °F)
Mass of single converter (support excluded): 530 g (19 oz)
Protection level according to IEC 529: IP 64 on the converter *
IP 67 on sensor, buffer and connector
Immunity from electro-magnetic interference according to EMC norms
*
Protection level according to IEC 529 with pneumatic converter pneumatically powered
Reference performances
Linearity error in the range ± 50µm: < 5 µm
Linearity error in the range ± 30µm: < 2 µm
Noise: < 0.3 µm
Measure stability (3 minutes): < 0.2 µm
The above mentioned performances are related to the following conditions of use:
Power supply pressure: 300 ± 10 KPa
Pneumatic sensitivity: 1 KPa/µm